Travel information
Instructions for travel to Assisi and the Conference site: Hotel Domus Pacis

Timetable for
trains to Assisi
.
One or two of Antonianum Students will be available on the 30th of April from midday until 3 pm to help people attending the ESSSAT Conference. They will stay near the ticket machines (see photo below), and will carry a badge with the ESSSAT logo and their names.

Meeting place in Termini Station.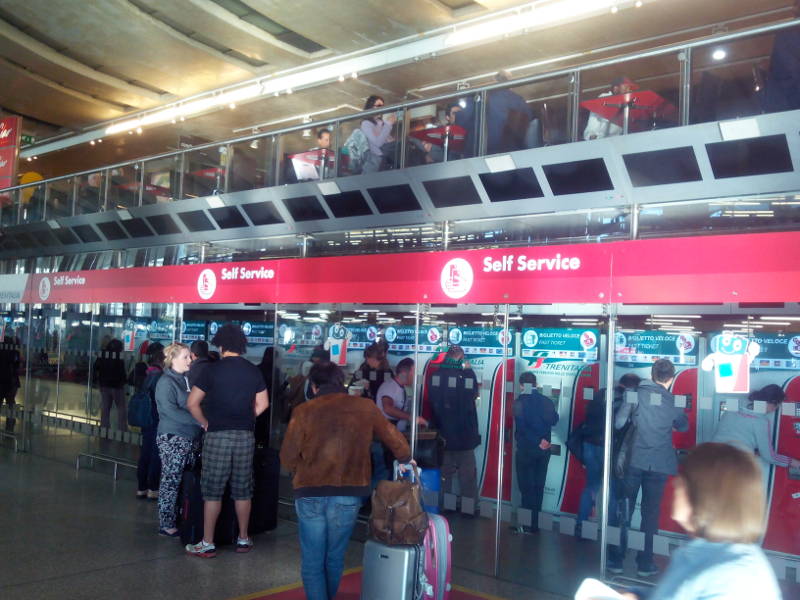 The easiest and quickest way to reach Assisi is through Rome airports; Florence and Perugia are also possibilities.

Flying to Rome, most people will arrive at Fiumicino Airport; those flying with Ryanair will land at Ciampino Airport. You will then transfer to Termini rail station in the city center. From Fiumicino you can do this by train; from both airports you can use bus (cheaper), taxi or private shuttle. See further instructions below for onward travel to Assisi.
From the airport at Florence, take the local bus to the train station and take a train to Assisi. There are many trains linking Florence with Assisi, but the trip lasts half an hour longer and costs a little bit more. From the airport at Perugia, take the local bus to the train station and from there travel by train to Assisi, a 20 minutes trip.
There are many trains from Rome to Assisi (13 daily: see timetable). At Rome Termini station you will get a ticket to Assisi.. Ticket purchase is sometimes burdensome since queues could be very long. To save time you can resort to the many automatic tickets dispensers in the Station hall, which are quite user-friendly. Tickets can be bought at Fiumicino Airport rail station as well, if you prefer and there is short queue; and from the Internet.
Once you have a ticket you need to find your track. Termini is a huge station with 30 quays, so care is needed. Trains that depart from platforms 1 EST, 2 EST and 3 EST, are placed at a distance, at the end of the left quay; it is a 5 minutes walk to reach the corresponding track. All trains travelling to Assisi go further, and hence the destination maybe 'Perugia', 'Ancona' or other; so check carefully the departure time! See timetable.
Be careful with the possible train connections to Assisi. As you can see in the timetable, 5 trains travel directly to Assisi without change; and 8 need a change, usually at the Foligno Station, very close to Assisi (20 km). The same happens with trains from Firenze (Florence), but in that case the usual changing station is 'Terontola'. In any case this is a very beautiful trip through one of the most charming landscapes in the heart of Italy.
When you arrive at Assisi rail station, the hotel Domus Pacis is about 1 km away. You can walk, you can get a local bus, or a taxi to the hotel. Everybody in the town knows this hotel which is located just beneath the big Basilica of Santa Maria degli Angeli or Porziuncola, the biggest building in the area.
The Conference site is in the valley, so there are no ups and downs to be walked. The hotel is modern and has all the equipment and facilities to help visitors with mobility limitations. For the excursions to the town in the hill and to Perugia, the historical places, we will organize extra transportation for those who require it.
If you need further information, do not hesitate to contact Lluis Oviedo: loviedo@antonianum.eu


Setting
Probably one of the most beloved cities in Italy must be
Assisi
. It concentrates the charm of a medieval village on the top of a hill; the artistic magnitude you could expect from a historical Italian town; and the spiritual intensity linked to its Franciscan origins. Its landscape – especially in spring time – is one of the most inspiring in the heart of Italy. This environment has moved a lot of artists, thinkers and religious people. Today it becomes an engaging point for many religious seekers.
For its visitors, Assisi is not just a place, but an 'experience' that you can feel whether you are just strolling about its streets or keeping in silence in some of its several churches. You can still notice there the medieval atmosphere and the traces of the first Franciscans. Assisi has been declared 'city of peace', after several meetings that were held there and have summoned people from different religions and political affiliations to pray for peace. Such a trait could apply to scientists and theologians too, who try to find more peaceful means of encounter and dialogue between both disciplinary areas.
Assisi is located 180 km from Rome. Many
trains
link the two cities every day through pleasant landscape in an average time of 2 hours. The
hotel
'Domus Pacis', where this event will be held, in the valley of Assisi, close to the monumental Church of Santa Maria degli Angeli, is a big structure well equipped for conferences and able to accommodate more than 300 people. For more information, please check:
http://domuspacis.it
We are planning to hold one of the plenary lectures in the nearby city of
Perugia
, offering the possibility of spending a few hours in the atmosphere and environment of that very special place as well.
We will provide more practical details about schedules and means to arrive to Assisi in the next months, closer to the conference
.